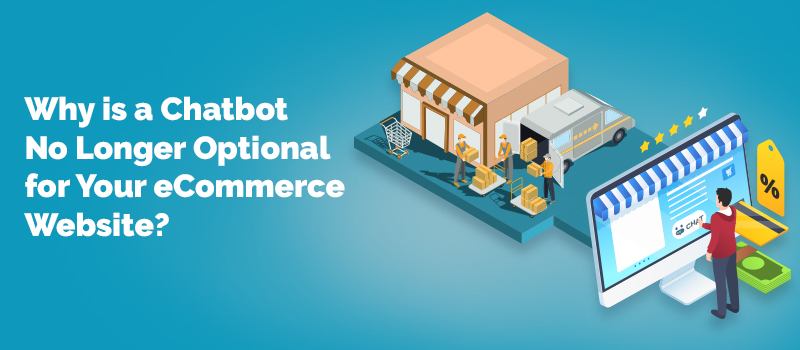 Why is a Chatbot No Longer Optional for Your eCommerce Website?
With the eCommerce market getting fiercely competitive over the years, web shop owners are always looking for differentiators that set them apart from their competitors. For brands searching for new tactics to attract and retain customers, AI based chatbots entered the scenario as a panacea.
According to LivePerson survey of 5000 consumers, 67% of them have used a chatbot for customer support in the last 12 months. The early adopters thus leveraged conversational chatbot for eCommerce to make customer experience their unique selling proposition.
Let's pay some heed to few more intriguing stats to understand why chatbots are becoming main stream and are a must-have for your eCommerce stores to keep you ahead of the game: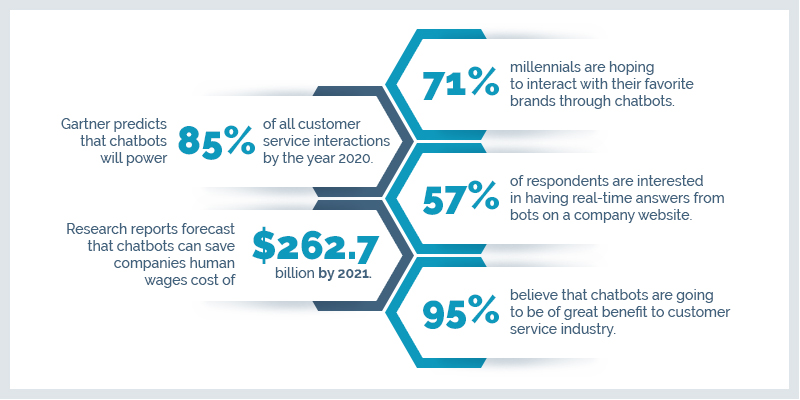 Still not convinced? Well, let's move on to some compelling reasons why it's high time to get a chatbot for your online store.
Benefits of using a chatbot for your online store
Chatbots can be your first line of customer support without you having to do any coding to feature them on your website. As a chatbot development company, we offer customized, well-trained and ready-to-use chatbot widget that can be easily integrated to your eCommerce website. And guess what, you do not even have to undergo the hassle of training them!
Here are some potential ways a chatbot can transform your eCommerce business:
Increase your outreach
Unlike apps and websites, chatbots can engage your users actively and serve them with instantaneous answers.
Thus, bots are an effective option for running interactive marketing campaign. And that in turn can help you to reach out to a higher number of people without incurring any extra cost.
We can customize your chatbot widget for multiple communication platforms to engage your customers on their preferred platforms.
Attend to your customers 24/7
Your customer support representatives can work productively only up to 5 or 6 hours. And In order to engage your customers 24/7 you would need to invest in employing additional resources.
Since Chatbots are capable of running efficiently 24/7/365, it can save you from this additional expense and also boost customer loyalty by being available to your customers whenever they need support.
Enhance customer satisfaction
Customer satisfaction is one of the key factors that can translate into higher sales and returns leading to the success of your business. Happy and satisfied customers are more likely to recommend your brand to their friends and family.
Gain organizational efficiency
By deploying chatbots rather than customer support executives, small businesses can bring down their costs significantly. As our chatbot is trained to handle 100+ situations and more than 70% of customer queries, giving it a shot could be a better and cost-effective option for your e-store.
Reduce customer acquisition cost
Lowering customer acquisition cost is one of the major challenges that small businesses face and a chatbot can help you solve it.
A customer support executive can handle only certain number of customer requests at a time, whereas a chatbot can process gigabytes of data in a single attempt.
Thus quicker response from chatbots leads to happier customers who are more likely to become repeat customers.
Offer quick solutions to customers
Do you enjoy listening to the on-hold music while waiting for reply from a customer support agent? We never do and the same holds true for your customers too. Chatbots save your customers from undergoing such annoying experience and instead provide them with instant support.
Add personality to your brand
Chatbots can help you create an identity for your brand and attract customers to your web shop. We offer white-label chatbot which can be customized to align with your branding requirements. We can customize its name, tagline, font, chat colour theme, and more to suffice your unique business needs.
Save cart abandonment
Chatbot can help you create personalized experience for every customer and increase shopping cart conversion. With bots operating 24/7/365, you can be rest assured that every customer who adds items to their shopping cart ends up with a purchase.

However, a chatbot can come to your rescue! To understand how it works, let's take a look at the shopping journey of Sarah, a retail eCommerce customer.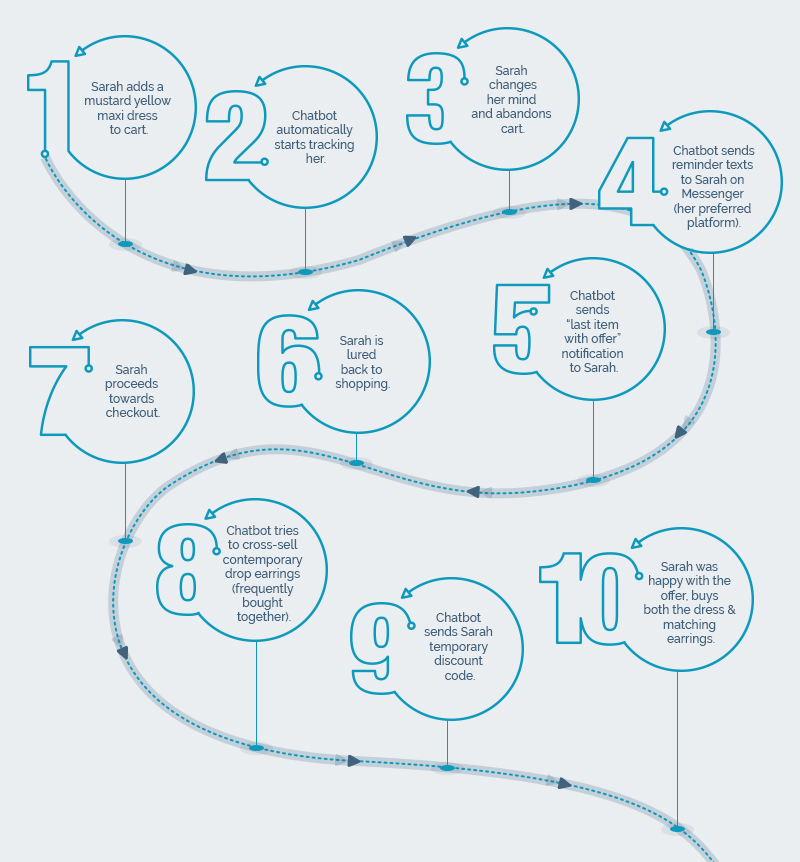 Increase revenue with better engagement
In the shopping journey of Sarah, did you notice how the chatbot cross-selled matching earrings to her along with the dress? Your chatbot can also be customized to cross-sell and even upsell, and thus make your sales to shoot up. Your eCommerce chatbot can do that by explaining the benefits and values of an expensive product or service to the shoppers and convincing them to make a purchase of higher price value.
Wrapping up
So, don't you think you are missing out on the commercial viability by not having an eCommerce chatbot? Once a differentiator, chatbots today are an eCommerce imperative which can help you to get an edge over your competitors.
Want to deliver personalized shopping experiences to your customers? Get in touch with an eCommerce chatbot development company today!