Why do We Call Ra a 'Well Trained Chatbot' for eCommerce?
Ra – Chatbot for eCommerce Support has been trained to efficiently handle customer queries with 100+ situations that often arise in eCommerce support. While other Chatbots require training in order to handle such queries, Ra is Ready - to -Serve.
eCommerce platforms require quick and prompt customer support services, and the LIVE Chat Widget doesn't always meet these needs effectively. Here, Ra is ready to respond anytime, anywhere without you having to undergo the hassles of training.
Ra – Your Personalized Customer Support Manager 24 X 7

Reduce Support
Overheads

Increase Customer
Satisfaction

Respond & Quickly
Promptly

Improve Marketing using
Behavior Analytics
What Makes Ra – The BEST eCommerce Bot?
It Comes with a Back-Up Plan –> Manual Override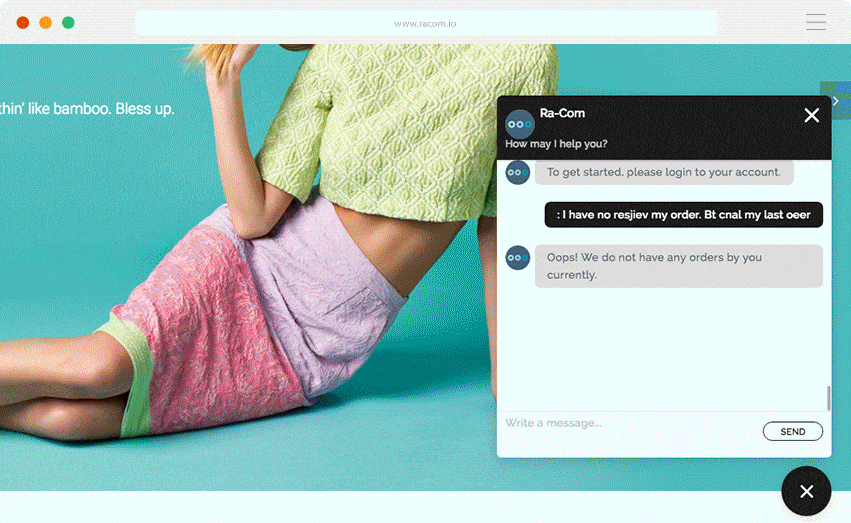 Ra has been trained to handle 100+ situations i.e. 70% of your queries in eCommerce
When your customer or visitor asks a complex question, that requires human intervention, then Ra – Chatbot for eCommerce will notify your 'Customer Support Executive'. And the Customer Support Executive can choose to take over from the Chatbot to answer the query.
Backend Features
Create Profiles for Back-Up Customer Support Executives
Get Notification for Complex & Unanswered Queries
Seamlessly Switch to Manual Mode to Answer Instantaneously
Get Manual Override for Handling Unique Set of Queries
Get Unlimited Messaging with RA
Get a customized Chatbot. Enjoy unlimited messaging with Ra – Chatbot Widget
Features for eCommerce Support & Shopping
Track Order
Ra can help your customers to track their orders and provide with the LIVE status. If in case the order has not reached your customer, Ra can smartly handle your customers and assure them of best services.
Change Address
If your customers wish to change the delivery address or add a new address to their profile, they can ask Ra to do it directly from the Live Chat Widget on the website or from your online marketing channels like Skype, Facebook or Slack.
Get Order Invoice
Need a purchase invoice for record purpose? Ask Ra to get it for you. Ra can support in generating invoices and also lets you to download and print them.
Request to Contact
Need more information about the product? Or you wish to talk to the customer representative? You can ask Ra to Contact you on the number you wish.
Manage Complaints & Queries
If you don't like the product or have some issues, you can ask Ra to register a complaint or report an issue about the product or the services. Improve your support with Ra.
View Categories
Ra is your customer's personal assistant, to help customer find exactly what they need right from the chat window. See product categories and browse products faster.
Discover Products
You can ask Ra to show you the products in certain category. It will bring the best of the products to you in not time. Ra just makes your shopping experience better.
View Wishlist Items
If you want to see your items in the Wish list, Ra can help you see them whenever. All you have to do is ask Ra to show you the items, and you can scan through the items of our Wish list while in chat with Ra.
View Cart Items
Would you like to check the Cart Items? Ask Ra to get that information for you. Process to checkout directly from your chat window instead of going to the site.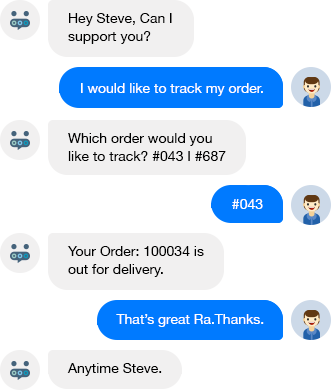 Customize Chatbot Widget for Multiple Communication Platforms
RaCom offers an AI based Chatbot - Ra that offers Click-Button and Typing mechanism in chat communciation. It is compatible with most of the communication channels and can fluently converse in multiple languages.

Respond to your customers immediately while offering them personalized shopping experiences. Be it Facebook Messenger, Skype or any other communication platform, RaCom can bring value to your eCommerce business with a Trained Chatbot - Ra

Get Chatbot Widget Now!