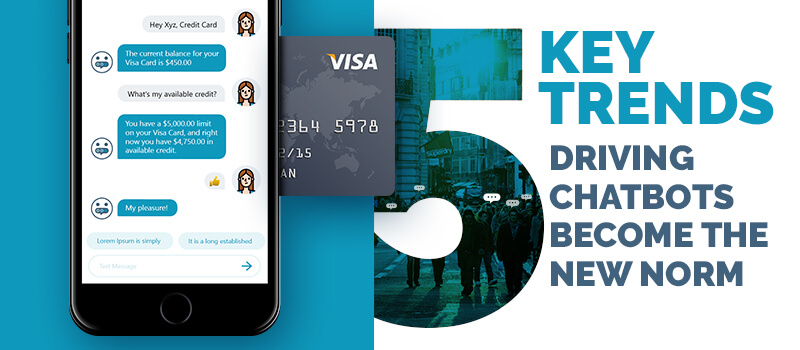 5 Key Trends Driving Chatbots Become the New Norm
According to Boston Consulting Group, the internet users in emerging markets will swell to a staggering 3 billion by 2022. Is your business ready? Your online business image depends considerably on the customer service that you provide. Dissatisfied customers are unlikely to make future purchases from your brand. That's why great customer service matters!
How to deliver great customer service at fraction of cost?
One of the most proven ways is automating your customer service by using AI-powered chatbots. Here are some interesting trends making chatbots default choice of customers for interacting with a brand.
1. Shift in consumer expectation & behavior
With advancements in technology, consumer behaviors are changing too and expectation of a better digital experience is one of the most obvious ones.  Chatbots enable brands to offer absolute optimal customer experience by organizing customer journeys into a seamless as well as transparent cycle.
With chatbots, brands can interact with their customers in a more impactful manner. Once the first sale is complete, chatbot for customer service can predict and personalize needs of your customers thus inspiring future sales and long-term loyalty.
2. Smarter AI capabilities
Advances in artificial intelligence are enabling brands to create meaningful and engaging experience for their customers. Natural Language Processing (NLP) technologies are allowing customers to connect with your brand in a more human way than reaching out through Boolean search terms or forms.
Moreover, NLP is critical in enabling customer support bots to identify intents, actions and contexts in languages and helping them frame relevant answers.
3. Faster customer interactions at lower cost
Staffing a 24x7x365 customer support center with human agents can be very expensive. However, chatbots can help your business save on customer service costs. Bots can not only speed up response times but also free up your human agents for more challenging tasks by answering almost 80% of routine queries.
Therefore, by engaging your customers and effectively resolving their queries, chatbots can save you from losing customers and damaging business reputation; both are expensive.
4. Rise of conversational UI
With the growing popularity of messaging platforms like Facebook messenger, Slack, Skype and others, successful businesses are already leveraging this trend to better serve their customers.
As chatbots converse with your customers via messaging apps and help them accomplish certain tasks, the satisfaction of your customers would translate into bottom-line benefits.
"70% of consumers say that they prefer messaging over calling for customer support". This is a wake-up call for every business if they are not using conversational chatbots.
5. Growing Demand for personalization
Well-designed customer journeys are critical to customer experience success and chatbots are already transforming customer journeys. With their instant availability and ability to deliver real-time information, chatbots are effectively addressing the on-demand approach that modern customers are expecting.
You can get your chatbot widget customized by a Custom AI Chatbot Development Company and integrate with your website as well as popular messaging apps including Facebook messenger, Slack, Skype and Telegram. In this way, you can effectively bridge the gaps between different communication channels and maximize the benefits of chatbots for your business.
Chatbots – The new age customer service reps
As chatbots present brands with an opportunity to improve customer service, more and more businesses are harnessing the power of this technology and reaping its benefits as well.
As per Huffington Post stats, "84% of consumers are frustrated when the agent does not have information." AI-based chatbots can quickly analyze colossal amount of information that is beyond the capacity of human agents and respond immediately.
Get Ra – customer service chatbot for free and serve the new age customers effectively!