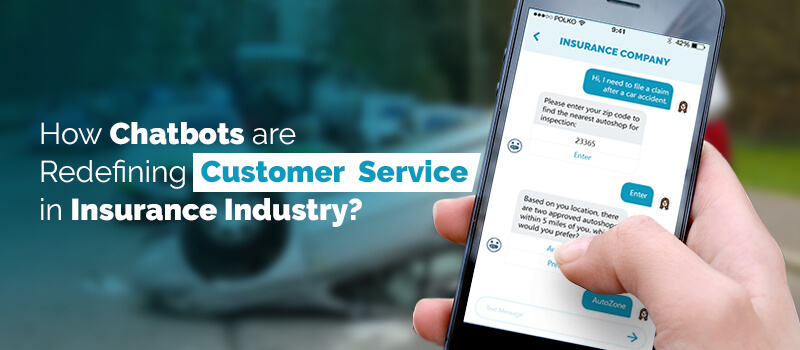 How Chatbots are Redefining Customer Service in Insurance Industry?
With the fast advancement in technology and ease of access of information, contemporary consumers have become more empowered. Being accustomed to fast and personalized service, they expect similar levels of service from their insurance providers as well.
Today insurance companies have enormous opportunity to deliver exceptional experience to their customers, thanks to AI-enabled chatbots! You can now easily capture data, get insights from it and thereby take better actions.
Let's take a look at how AI-powered chatbots are empowering insurance companies to better serve their customers.
Reduce potential confusion
The jargons used by insurance companies are often confusing for a layman. Also understanding subtle differences in apparently similar product offerings could be very challenging for new customers.
However, a chatbot can demystify the jargons and put complex terms into simpler language while walking new customers through the sales funnel.
One-on-one consultation
Unlike call centers wherein customers are put on hold, mostly due to limited number of agents, chatbots can handle hundreds of customers at a time. Thus, your customer service chatbots can deliver one-on-one consultation to save customers from getting frustrated and help foster greater customer loyalty.
Streamline tedious processes
Insurance customers generally dread the current insurance claim process comprising of redundant paperwork and unnecessary steps. A chatbot, however, has the capability to significantly reduce the overall process duration through the use of artificial intelligence. So, AI-enabled chatbots are already making the most desirable dream of insurance customers a reality, i.e., cutting down on insurance wait times and settling every claim quickly.
Reduce stress during claim process
Research reveals that most people's best and worst experiences with an insurance company occurred when they were in the process of making a claim. With AI-powered chatbots, you can re-invent the claims process and make it intuitive for your customers. Chatbots can keep your customers well-informed with what is happening and help them track their claim status.
Available 24/7
Misfortunes such as car accidents, life-threatening events, home damages, etc., can strike at any hour. You might need to consult with insurance advisors at any time of the day.
A traditional insurance company might require customers to call them within business hours if they need any assistance filing a claim, whereas, a chatbot can be available 24/7. Moreover, it remains unaffected by the volume of work and can deliver seamless and surprisingly frictionless customer experience throughout the customer journey.
Proven tips for unlocking the value of insurance chatbots
Prioritize customer experience and focus on delivering the best across the customer journey.
Identify your customers and know them better to understand what policies they have and why they might be contacting you.
Bring all your data (customer service, marketing, CRM, underwriting, previous claims, invoicing, payments, and all the business processes) in a single place so that your insurance chatbot can easily fetch data, take actions on and deliver meaningful responses.
If the issue is too complex, the chatbot should be able to seamlessly handover the case to a human agent after collecting and qualifying the information in the first place in order to save time for the agent.
Get a "well-trained chatbot" so that you can rest assured of delivering exceptional customer experience in insurance.
Are you ready to meet your customers' expectations?
With the advancement in artificial intelligence, chatbots are ushering in new standards in customer service for the data intensive insurance industry. Is your company ready? Get in touch with a custom chatbot development company and get your own insurance chatbot to reap the benefits of early mover advantage.
Do you already have a chatbot for customer service? Please be the first to share your bot experience by leaving your comments below.